The accident ALLY 2022 Recap!
2022 was a year of connecting the dots. It felt like a lot of pieces of the puzzle were starting to fall into place and they did. For me, our work in 2022 can be summed up with 3 questions and a map.
Question 1 Why are there so few people with disabilities in the workforce?
In 2018, I stumbled onto Web Accessibility by accident while consulting for a large e-commerce company. This kickstarted my journey on accessibility and disability inclusion. Hence the name, The Accidental Ally. But everything we do is intentional. I founded The Accidental Ally on Mother's Day in 2020 and spent a year exploring how to make Web Accessibility less overwhelming for product teams. During this time, the recurring question in my mind was —
'Why are there so few people with disabilities in the workforce?

How can we make digital experiences accessible when people with disabilities are not part of the conversation?
The exploration of this question is what led to The Accidental Ally Internship in the summer of 2021. I hired young men and women ages 18–25 years with Down syndrome, Cerebral Palsy, and Autism. I hired them because I wanted to know if they are willing to learn new skills, and are eager to work. What I learned from this experience was that these young men and women are the most underrated, undervalued, and underestimated group of people in our world today. They have tremendous potential to contribute to the world in meaningful ways. Most importantly, they have a great hunger to be given the right opportunities where they can learn, work and thrive as contributing members of our community. They have a great desire to be seen and to be valued for who they are and as they are. These young people sparked in me a desire to help them make their dreams come true. That is what I am committed to doing for life!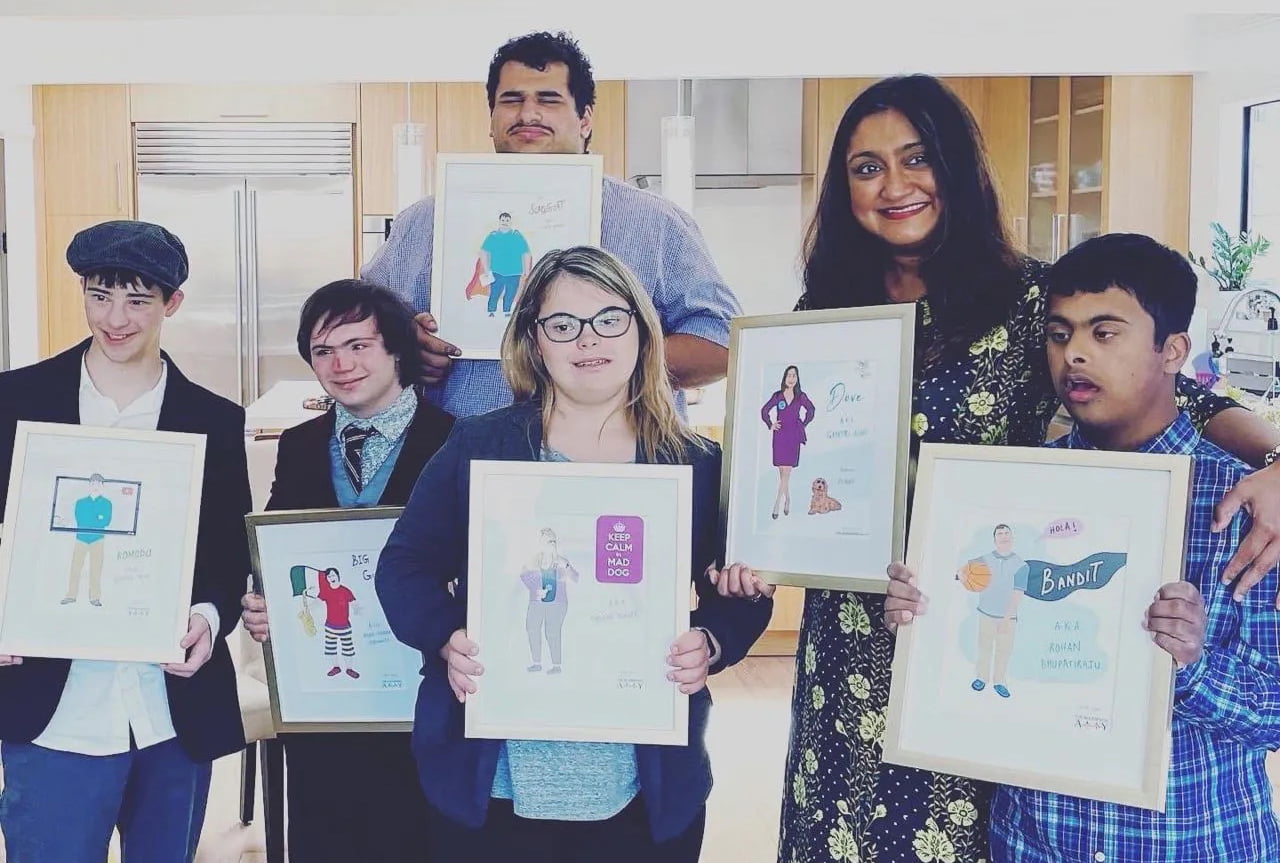 Question 2 Can you help me learn new skills and find a job in tech?
A few weeks after the summer internship had ended, Rohan, one of my interns came back to me with this question. He wanted me to keep the internship going because he felt that he was not done learning. Not only did he want to learn new skills, but he also had a great interest in exploring web accessibility and wanted me to help him find a job in tech. He comes from a family of techies, he admires Satya Nadella (who also hails from Hyderabad like his family) and he wanted to work! After relentlessly pursuing me for weeks, he got what he wanted. We worked together for weeks on Web Accessibility. No matter what I threw at him, he was like a sponge, absorbing everything, and learning at a staggering pace. His enthusiasm and zeal inspired others to join and before we knew it we were a team, meeting every day and learning together. It is this team that brought me to the realization that I needed to focus entirely on helping Rohan with his dream. It all starts with a unit of one. That is what I did and penned The Accidental Ally Manifesto declaring our new mission and vision for the future. I am determined to bring Rohan's vision to life!
Question 3 Are employers willing to invest in potential?
I firmly believe that the traditional approach to hiring and retaining employees does not work when it comes to disability employment. We need to invest in potential. A topic I wrote about in this article — Is there a business case for investing in potential?
Here is why investing in potential is important —
Many disabled people do not qualify as candidates because they do not have marketable skills.
Many employers believe that disabled people cannot work and do not want to work.
Many job sites focus on matching candidates to jobs. This approach serves only a small % of people in the disability community. They limit the opportunities to only a few disabled candidates who qualify for jobs. What about the others who don't qualify? Not qualifying does not mean they cannot and do not want to work!
We need a shift in the mindset —
We need employers to think differently about disabled people.
We need employers to invest in potential which means they need to look beyond a resume.
We need employers to invest in the training and development of disabled people so that they become qualified candidates.
We need employers to create real-world and on-the-job training opportunities for disabled people. This one is vital in ensuring we are making space for the next wave of talent!
We need to match the job to the candidate, not the other way around.
The Accidental Ally is fortunate to have connected with the right employers with the right company culture to enable this shift in mindset.
Here are a few insights from our collaboration with Five9 —
1. Get the team involved from the get-go
Jayashree got buy-in from her key stakeholders starting with her incredible CMO Genefa Murphy, her peers, her amazing HR partners Teri Dutcher, Mary Mauck, and her awesome team leaders Kendall Fulton, Matthew McWard, Ryan M. It was incredible to have so much support across the organization and to also have the executive buy-in.
2. Lean into the unknown
It almost felt like a cheesy movie scene, where Jayashree and I looked at each other and said, 'You jump, I jump'. We didn't know what to expect but we did not let the fear of the unknown hold us back. We leaned into the unknown with a learning mindset and I am glad that we did.
3. Push the boundaries
When I first saw Jayashree's list of projects, I panicked. Did she expect people with Down syndrome and Cerebral Palsy to learn new marketing skills like Demand gen, A/B Testing, Content Management, Google Analytics, and Localization? I was prepared for us to work on Web Accessibility but the rest was completely new territory for us. But Jayashree was clear that she wanted Rohan and Rojene to acquire some new skills and push the boundaries of what they thought they can do. I am so glad that we followed her guidance because it opened new doors for us, for Rohan, and for Rojene.
4. Lead with compassion and deliver business results
Despite their busy schedules, the team was available, and responsive and went above & beyond to provide materials that helped us train Rohan & Rojene for their jobs. Project timelines and deliverables were met, the team worked cohesively and everyone felt a great sense of accomplishment at the end of the internship.
5. Make it fun
Jayashree and the entire Five9 team made it a fun work experience for Rohan and Rojene. Whether it was the intern event or the team lunch or the cool Five9 swag, every little thing mattered. It set the bar very high for Rohan and Rojene. I am a little worried that they now expect the same from every workplace they will step into!
A Map
Below is a map of the world visualizing an important disability statistic that not many people talk about.
Only 18% of the countries in the world constitutionally protect the right to work for persons with disabilities.
I want to leave you to ponder this question below.
What if your right to work was taken from you? What would you do?
Source: Disability World
What's in store for us in 2023?
I often get asked the same questions, 'When will you scale this up?', 'When will you start pitching to investors?', 'have you thought about hiring people?' and so on. Yes, we want to scale and we want to grow BUT we are not in a hurry.
Here is what I want to do in 2023 —
I want to repeat what we did in 2022. I want to connect with employers and teams like Five9 that are willing to invest in potential. I want to test our model again this year with 5–10 more self-advocates with Down syndrome and Autism who are ready for work now!
I want to spend time listening. I have a goal of engaging in 100 conversations that will give me insights and perspectives that are diverse. I want to talk to self-advocates and their families, HR teams of employers who want to build inclusive teams, and hiring managers who want diversity of thought and action in their teams. I want to talk to CEOs who want more from DEI initiatives than vanity metrics. I want to talk to skeptics who don't believe in our mission. I want to talk to people who are indifferent to disability inclusion, and I want to talk to people who will challenge my assumptions, my thinking, and my approach.
I want to build on and grow our learning platform. We have developed several methods that help simplify complex concepts. We make learning fun and engaging. I want to build on what we have created and continue to develop engaging learning content.
I want to test and learn our way into new opportunities. We do not believe in limiting ourselves to one way of doing things. While internships are a great way to get real-world experience, it is not the only way. We want to test our ideas around building inclusion into design thinking best practices, innovation workshops, and co-creating design studios with people with disabilities at the heart of it. We want product teams to have direct access to the richness of experience of engaging directly with people with cognitive and intellectual disabilities. We are NOT interested in enabling usability research. We are NOT interested in providing staffing or recruiting services. What we are after is a lot deeper than that. We want to develop a deep, meaningful relationship between the disability community and the creators of digital experiences. There is a lot here that has not been explored yet that we are eager to uncover.
I want to keep moving forward. This means having the willingness to fail. To take the lessons learned from failing and fuel the next set of actions. We take pride in being action-oriented, taking one step at a time, and moving forward!
Share our stories. It has been a great desire of mine that you hear directly from the people we serve. In 2023, we want to bring you the stories of the people we serve but we want you to hear directly from them.
I leave you with the following quote from Sir Ken Robinson which sums up my wish for 2023. My wish is for each of us to become more self-aware, realize our true potential, and have the courage to act upon it. I know that it is what I am going to do in 2023.
We thank you for your continued support of our work! Happy New Year and love to all!
Every single one of the 100 billion lives who have walked the face of this earth is unique and unrepeatable. To be born at all is a miracle, so what are you going to do with your life? — Sir Ken Robinson
Below is the timeline of our accomplishments in 2022. I am deeply grateful for all that we have accomplished in just one year!
January 2022
We declared our new mission to focus entirely on creating engaging and enriching work opportunities for people with cognitive and intellectual disabilities.
February 2022
I penned The Accidental Ally Manifesto sharing the stories that led to our new mission, why we do what we do and what our vision is for the future.
March 2022
Meet and greet with a few prospective employers who were interested in our work and who were interested in investing in the potential of the young people with disabilities that we were working with.
April 2022
We signed 2 contracts with Five9 and Spotify to execute an internship program that would employ Rohan, Rojene, and Sabrina, who are self-advocates with Down syndrome and Cerebral Palsy. The internship would embed them into teams within the Global Marketing org at Five9 and the Web Accessibility team at Spotify.
May / June / July 2022
We kicked off the internship programs. The Accidental Ally team had spent months training our self-advocates for this experience. This would be the true test of all our hard work and effort over the last few months.
August 2022
Internship final presentations and celebration of the tremendous success of the program. All interns were celebrated for their tremendous contributions to their teams. They blew past all expectations!
September / October / November 2022
Post internship, Rohan and Rojene focused on securing the Certified Professional of Accessibility Core Competencies (CPACC) certification, the only certification available in the field of Web Accessibility.
December 2022
Rohan made history as the first person with Down syndrome to take the CPACC exam. Rojene finally made her dream come true. We are awaiting the results of the exam but regardless of the outcome, we have achieved the impossible. This is a huge accomplishment for both Rohan and Rojene. This only goes to prove that with the right environment, the right opportunities, and the right approach, anyone can learn anything, and anyone can dream big dreams and achieve them!